The Future of Posts
GROWTH STRATEGIES FOR 2020 AND BEYOND
This is the third year of Escher's Future of Posts survey. Now, of course, the year 2020 will be synonymous with the extraordinary global pandemic, which is already playing an important role in re-shaping postal operator strategies worldwide. However, Escher's 2020 survey was conducted prior to the global lockdown taking place and before postal operators had to shift their strategies or prioritize their resources to tackle the unprecedented state of the world. This survey takes a temperature-reading of postal operator intentions at a time when strategic and operational planning was more stable. We did however ask two additional questions from Posts in May 2020 to better understand the impacts the pandemic was having on postal operations. These results are displayed on page 17 of this report.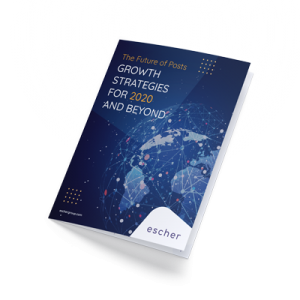 Escher's Future of Posts 2020 survey highlights:
Business Trends
Leveraging Technology
Harnessing e-Commerce Growth
Cross Border e-Commerce
POS Channels
Global Pandemic
Click here for Escher's Privacy Policy and Terms & Conditions.
Escher is committed to protecting and respecting your privacy, and we'll only use your personal information to administer your account and provide relevant content. You can unsubscribe anytime.
If you are having trouble filling submitting this form, please contact marketing@eschergoup.com